Our Customers
If you are currently a customer of Limini and you would like to be featured on here then please drop us an e-mail.
---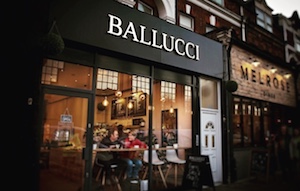 What is the name of your shop? What kind of coffee shop do you have?
The name of my coffee shop is Ballucci. People are always fascinated with the name and where it came from, assuming it's Italian. Truth is, I came up with it after two glasses of wine at it actually doesn't mean anything. Just sound really cool! Customers always giggle when I tell them the story.
Ballucci is a Coffee Bar & Lounge situated in Isleworth, West London. Although we do loads of take-aways, we also have a lot of customers that spend a lot of time with us. I invested a lot of time in creating a lovely environment with beautiful decor and a relaxing ambience. Almost since day one we were really busy and got loads of regular customers.
It's not just about the drinks and food. It's all about the experience at Ballucci and customer service is at the heart of everything we do. We know half our customers names, what type of drinks they like, their home improvement projects, family stories, children and dogs (which we allow to visit as well)
Our customers range from mums with babies/small children, business people, students, commuters, locals, retired people, school children, young professionals etc. We pretty much cater for everyone. We got very lucky. We have the most amazing customers. They seem to really love us and we love them just as much.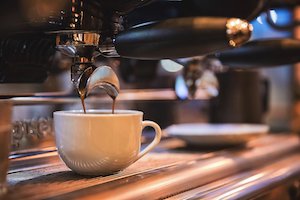 Why did you decide to work with limini coffee?
So after I came up with the bright idea to one day leave my well paid job and open a coffee shop I needed a starting point. After doing some research on the internet I found Limini among some other places that offer start up courses. Even though there were some courses much nearer to me, I felt that Limini offered a more in-depth service. They also seemed more professional than the rest of the companies.
I booked my course and I was very excited, but don't think that you will learn the A-Z in one (or two) day(s) then you might be disappointed. There is far too much to learn about a coffee shop in just a day or two, but what Limini will do for you is to give you a good platform where to start from. They are also happy to help and assist you along the way for when you get stuck. Don't think it's all over after the one day course.
Although I had to stand on my own feet, Limini was there as a support system right though. Even though I done a barista course with them at the very beginning, Youri came to me in West London the day before I opened to give me another barista course and help me with whatever I needed.
But it didn't stop there. I ordered my machine through them and some of my other products. The relationship between Ballucci and Limini is still going strong. I know most of the staff by name and we work together as a team. Ballucci might not have been such a huge success if it weren't for Limini. Not saying that it was all just them, but they definitely played a big part.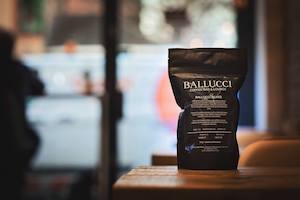 Why do you think other people should pick limini coffee?
Because lets face it. If you haven't been a coffee shop owner before, you probably don't know where to start. Limini will give you the platform you need. I had no idea about coffee beans, grinders, coffee machines etc when I started.
It's one thing to have a dream, but another to make it a reality. I felt completely helpless at the beginning. It was just like buying a house. You don't know where to start until you go and see a mortgage advisor. Only problem with business is that there is nothing like a mortgage advisor that can help you with every step along the way. So I was very grateful when I found Limini.
I have searched all over the internet and couldn't find anything similar to what they offer.
What is your best selling drink in the shop?
It's a close call between lattes and cappuccinos, but the lattes are still in the lead. I am very lucky with my staff. Most of them did not have an awful lot of barista experience, but after a few training courses and a lot of YouTube videos, they now do amazing latte art. We get a LOT of compliments on our coffee thanks to Limini.
And what is your best selling food?
Well I would say that is a close call between our pastries, sandwiches and cakes. Again, I got very lucky. It wasn't easy to find the right suppliers, but when I did I knew it was right for Ballucci. I have tried hundreds of bread and cakes before I made my decision.
Our food sells at different times of the day. In the morning when the pastries are all nice and fresh they would take the lead. Then over lunch time the sandwiches take over which we make fresh in the shop and offer them toasted or as it. We kept our fillings simple and traditional. In the afternoon the cake sell like hot cakes! (Pardon the pun!)
We get a lot of requests for hot food, breakfasts and salads, but due to the size of our prep and storage area, we can't go too wild. So I decided to keep it simple and do what we do well.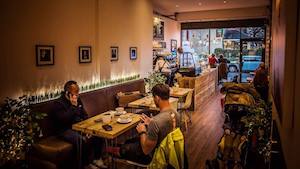 What are your future plans?
We've only been open for 4 months and it's been one hell of a ride so far! I have had several offers already to franchise the brand. But had to decline all of them, because I feel it's important to walk before I can run. For now the plan would be to open Ballucci number two in the next couple of years, but saying that I could also look into Ballucci Take-away stands.
I just want to get through the first year and then we'll see in which direction Ballucci will move. But I have a feeling that there will be more than one Ballucci in the future.
Why do you enjoy running a coffee business?
I enjoy running my own coffee business because I like the customer interaction putting my passion into my job. It's really hard work, but there is nothing like being in total control of your life and your job.
It is so rewarding every time when someone tells you that it's the best coffee they ever had, or that the place is amazing and that they are telling all their friends about it.
It's hard work, but I don't think I would ever be able to go back to work for someone else. You are your own boss through and through. You call the shots, you make the decisions, you make the money.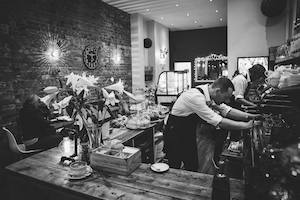 What would your advice be for someone looking to start a coffee shop?
Don't dream it, DO IT! It is so easy to say you want to do something, but when it comes to taking those first steps it can be daunting. Many of us have jobs and get a monthly salary. Some of us hate our jobs, but do it because it pays the mortgage and there is not risk involved. Take that risk and make the change.
I will be completely honest with you. It's hard work… really, really hard work. I have never worked so many hours in my life. In the first month, I thought to myself, this is how it must feel like to have a baby. At first you have to watch it at all times. Eventually you can let someone else look after it for very short periods, but never for too long.
It's your baby and you got to take care of it. But eventually the baby grows older and it can start doing things for itself. A business is the same. Eventually you will be able to let it run by itself, but you need to put the work in.
Every successful business owner will always tell you the same. It's hard work but very rewarding. And that is exactly what it is. Just take that first step and don't look back.
Are there any downsides to owning your own coffee shop?
Yes! Loads! Want to pull my hair out nearly every day! Drink far more wine now than before. Would I go back and change anything? HELL NO! Being a coffee shop owner is very different to what I expected. Most people will think that owning your own business gives you loads of freedom so that you can come and go as you please. Well, some business owners do that, but their business is likely to fail.
If you want to be a successful business owner you need to prepare to sleep, eat and breathe your business. It will be really tough in the beginning, but you will very soon learn how to overcome certain obstacles. You will make loads of mistakes, but you will learn really fast.
Staff can be wonderful, but also a pain! (I love my staff like my own children, but want to kill them from time to time). You will need to be very responsible and make sure that everything is paid on time (especially your staff salaries), you place your orders on time, keep your customers happy etc. Life has most certainly changed.
Even though I complain most days, I still sometimes have to pinch myself and say; YES, you've done it! As long as you are ready doing work hard, you can prepare yourself to reap the rewards, because there are plenty!
Dewald
And finally, please can you tell us your address details and website address?
Ballucci, 479 London Road, Isleworth, Greater London, TW7 4BX (Pop in for a coffee if you're in the area)
https://www.facebook.com/BallucciCoffee
https://www.instagram.com/balluccicoffee
---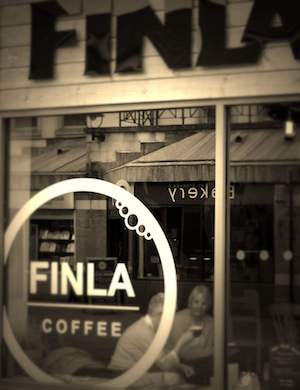 What is the name of your shop? What kind of coffee shop do you have?
We are called Finla Coffee, Finla stands for 'Fall in love again'… because that's what we wanted people in the UK to do, Fall in love with Coffee again, but this time, how coffee is meant to be created and served!!
We are based in an ancient stannary town situated just east of Plymouth in South West England named Plympton. We wanted to create a local hub for locals and visitors, and wanted to re-educate anyone that visited us on the amazing coffee we served!
We appeal to all walks of life, families, mother & child, business women, elderly, students, we even witness 'first dates' on a regular basis ☺ With the space we have created, there is plenty of room to welcome pushchairs, wheelchairs and mobility scooters, so no one is isolated when visiting Ridgeway, the heart of Plympton.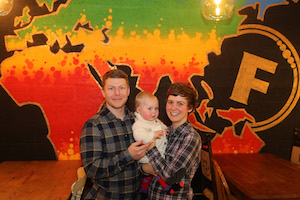 Why do you do what you do? How and when did your journey start?
Our journey started in 2012 when we both packed in our jobs and homes to go travelling for 6 months around India and South East Asia.
We spoke on many occasions on how we would love to work for ourselves when returning home, but what we didn't know. We spoke all the time and came up with so many ideas, it wasn't until about 4 months into our travels that one day whilst sitting in a lovely coffee shop a light bulb illuminated… it was staring us in the face the whole time, we had spent so many hours in coffee or tea hubs everywhere we had been - we loved the feel of being part of a 'hub', the atmosphere… even when sitting on the dusty side road of India drinking the worlds famous 'Chai' with the locals chatting, laughing. On top of this we had visited tea Plantations & coffee plantations - picking the berries from the plants ourselves.
We wanted to return home and create a coffee 'hub', somewhere sociable, somewhere where everyone felt welcome, somewhere where people enjoyed visiting and enjoyed their experience everytime... but we knew that we needed to get the product right as well as the ambience and décor, and this is where Limini came in!!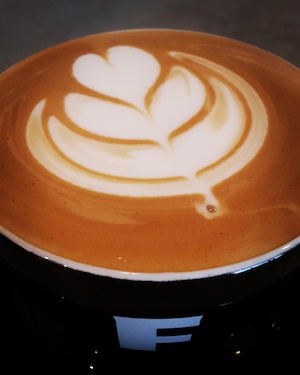 Why did you decide to work with limini coffee?
When returning home, we both got a 9-5 job and started researching 'How to start a coffee shop', after reading many reviews, making many calls & scrolling many websites, despite the distance, Limini came out on top - we had to attend their course.
The course was fun, exciting, knowledgeable, and most of all we were served the best tasting coffee we had ever tasted… we knew we needed Limini, the knowledge and their world class coffee beans.
The journey
It took us 2 years from attending our course to open our shop. We managed to secure funding but our next challenge was to secure a premises. With a lot of knock backs, Limini was still on the other end of the line giving us advice whenever we needed it. Once we secured the premises, we even returned to Limini for a refreshers course.
We were by this time expecting our first baby, so the race was on to fit out our shop and open before the baby arrived. When starting my maternity leave, I went straight in to managing the build for the shop which took 3 months, whilst Mike continued to work full time.
We secured our beautiful coffee machine through Limini, and the whole process of the ordering, delivering and installing of the machine ran smooth… we just couldn't wait to get our beans on the go.
We managed to get the shop open a whole 3.5 weeks before our first baby was born ☺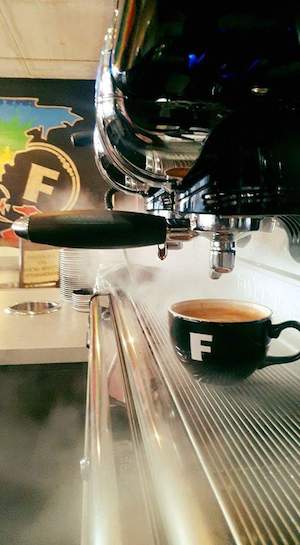 Why do you think other people should pick limini coffee?
Their customer service is A Class, their Coffee is World Class, and there is nothing that they don't know when it comes to coffee! Youri knows the coffee machines inside out and is extremely knowledgeable… you never feel alone! If you ever have any questions or queries, they are always on the end of the phone and will help you in anyway they can.
The ordering is simple and the coffee is always roasted fresh for YOU! Who doesn't love receiving a box of freshly roasted coffee every week??
What is your best selling drink in the shop?
We have all walks of life, so we sell a lot of everything… Latte, Americano, Cappuccino, Tea, Flat White, I don't think we can pin point the bestselling to be honest. All we know is that all our customers love our coffee and hot chocolates!! ☺
And what is your best selling food?
Everybody loves Coffee & Cake, we have a large selection of cakes… they're loving our selection of Flapjacks and Brownies - both sourced locally, Apple & Blackcurrant flapjack and Double chocolate Brownie fly off the shelf!! We also offer freshly prepared sandwiches, toasties and Bagels too… Pork, stuffing and apple sauce toasty is a big hit! We have just started offering a soup of the day and salads too.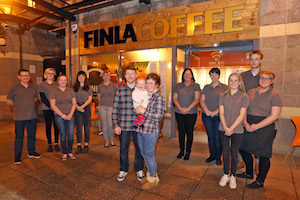 What are your future plans?
We have our First Birthday coming up this month which is exciting, we can't wait to celebrate this achievement. We are looking to utilise the space we have, and are currently researching opening Finla Coffee in the evenings, as our area is crying out for somewhere to dine out in the evenings and we have the space to provide this… Coffee shop by day, Bistro by night.
Why do you enjoy running a coffee business?
We love delivering a service and product that everyone enjoys, getting positive feedback on a daily basis makes all the hard work worth it. Our moto is 'Find a job that you love and you'll never work a day in your life' and this is why we created this. It's not easy, and you have bad days but the bad days just make you more determined to work harder. Seeing the customers come back time and time again makes it all worth while ☺
What would your advice be for someone looking to start a coffee shop?
Follow your dream and never give up. We had so many knock backs right from the beginning which knocks your confidence, but you just have to learn and become even more determined. If you're unsure, don't ever be embarrassed to ask… you learn something new every day which is only going to make you better at what you're trying to achieve. You need to stand out, listen to your customers and act on it fast if something isn't working. Consistency on your products is key, great excellent service and the customers love cleanliness! Believe in yourself!!!
Are there any downsides to owning your own coffee shop?
Yes, one… now owning our own coffee shop, it now means we can't enjoy visiting coffee shops ourselves, which we always use to enjoy doing in our spare time. When you've found/created something so good, it makes you realise just how bad tasting other coffees are!!
We're yet to find a coffee shop that we enjoy as much as we enjoy our own coffee ☺ but the hunt is fun nevertheless.
And finally, please can you tell us your address details and website address?
Finla Coffee Ltd, 12-13 St. Stephens Place, Ridgeway, Plympton, PL7 2ZN
https://www.facebook.com/finlacoffee/
---
What is the name of your shop? What kind of coffee shop do you have?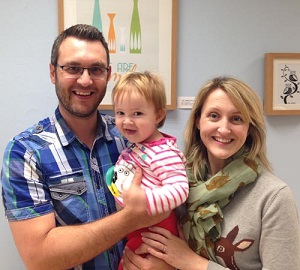 We are called Baby Bird Cafe (CIC - Community Interest Company) and we're based in the lovely border market town of Oswestry, Shropshire. We specialise in offering a cafe that is specifically accessible and welcoming to families with babies and young children.
Why do you do what you do? How and when did your journey start?
Our real journey started with the birth of our daughter in 2013, when we realised that many places we used to go were no longer physically accessible (with a pram) or we felt that we were somehow impinging on other customers experiences if she was crying or I needed to breastfeed.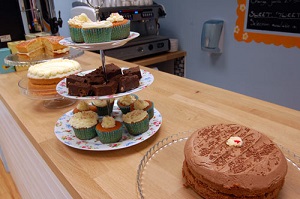 The idea began to form of a cafe with buggy-space, play area and a great menu and coffee - we don't believe that just because you have a baby or toddler with you, you should have a second-class experience. So I returned to my 'day job' after 5 months of maternity leave, and in the evenings or days off my husband and I began researching how to make our idea a reality. I applied for some funding, which I successfully secured, and began to seek out the other people I needed to make our dream happen...that's when I came across Limini Coffee.
Why did you decide to work with Limini Coffee?
I did a massive amount of research online, but didn't feel I was confident in knowing what I was getting for my money until I found the Limini Coffee website. It was clear from going through their information, and then having some follow-up conversations with their staff that we wanted to work with them to do our Barista training, secure our beautiful coffee machine and use them to supply our first-rate coffee beans.
Why do you think other people should pick Limini Coffee?
They're just so knowledgeable (and friendly) that I never felt uneasy asking them even some of my dafter questions or queries! Plus Youri is a walking Coffee Encyclopedia, it's like having a personal Yoda of all things coffee-related.
What kind of customers do you get through your door?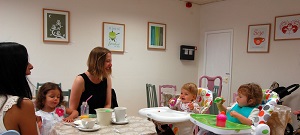 Mainly families- but as we have a strong ethical focus on where we source of food etc, we also get people interested in spending their money in 'independents' rather than the big corporate-type cafes.
What is your best selling drink in the shop?
Over the winter it was undoubtedly the hot chocolate we made with the Limini Drops. We had one lady drink 4 deluxe ones in one morning, so it must've been good!!
Coffee-wise both the cappuccino and latte are probably on level-pegging. The Limini Decaf is also amazing though (many mummies-to-be or breastfeeding new mums prefer decaffeinated drinks) and we often get customers coming up to check if we actually served them decaf because it tasted TOO GOOD!
And what is your best selling food?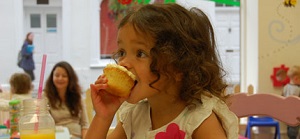 All of our sweet items sell really well, but it's fair to say, the Red Velvet cake that is made to our Canadian Barista, Britt's recipe, is our biggest seller. It has developed quite a following! We also do a nice mixture of sandwiches which we change seasonally to keep us 'fresh'.
What are your future plans?
In the short-term we have lots of exciting things in the pipeline for the summer, and not forgetting our First Birthday at the end of August!
We're currently focussed on making Baby Bird a success in our home town, with a view to maybe having a sister-cafe in the next five years.
Why do you enjoy running a coffee business?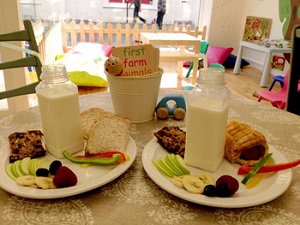 Yes, no two days are the same. It definitely isn't an easy option though, just as often as I'm found baking cakes in my flowery pinny, I'm equally likely to be found buried under invoices and working out which suppliers are better value. We also tend to work a seven-day week, but when you love it, it isn't really work!
What would your advice be for someone looking to start a coffee shop?
Figure out what your USP (unique selling point) is going to be, and never lose sight of it. It'll be what makes you different from everyone else. Think: niche, niche, niche!
Also really make use of social media, we have over 1,000 likes on our Facebook page, so it's really important to keep creating interested, relevant and informative content to keep people engaged.
And finally, please can you tell us your address details and website address?
Baby Bird Cafe CIC, 23 Cross Street, Oswestry, Shropshire.
---
What is the name of your shop?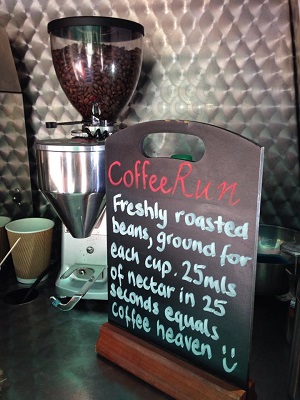 Coffee Run. A description of our two obsessions!
What kind of coffee shop do you have?
Coffee Run is a mobile cafe providing espresso based coffees, teas and hot chocolate. And, of course, a range of tasty treats to compliment your brew. We are based in Saddleworth on the edge of the Peak District and you will find us at all manner of events; from fell races to craft markets, corporate shindigs to wedding anniversaries, Christmas light switch ons to summer BBQs.
Why do you do what you do?
We are a small team of coffee obsessives who like to be in the great outdoors, so going mobile was the obvious choice for us. We love seeing the reaction on the faces of our customers when they try our coffee for the first time; I don't think many people realise they can get an awesome brew from the back of a van! There is something very rewarding about being in a customer facing environment and getting instant feedback on what you are doing.
With our set up there is no barrier between us and the customer and many people ask why we are timing shots or how we get our milk so silky etc. It's great to have that additional interaction with our customers and we love to spread the word on how to make coffee taste great!
How and when did your journey start?
My coffee journey started with the realisation that I was focusing more on the latte on my desk than the report I was writing and the possibility of a new career started to take shape. My husband-to-be bought me a voucher for a barista course at Limini Coffee as a wedding present. Post wedding we decided to book on to the "How to Start a Coffee Shop Course" to find out more about running our own business. The course was the perfect mix of business theory and hands on experience using the fabulous espresso machines. By the time we left the course we had a clear path on how to make the dream a reality. Coffee Run began trading in 2012 and, because we are mobile and go to many different events, our business is evolving all the time. It's exciting to see where the next twelve months will take us!
Why did you decide to work with Limini Coffee?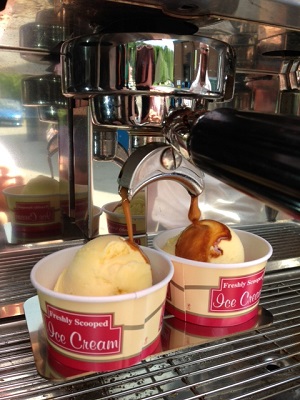 From the get go we have found the team at Limini Coffee to be friendly, professional and supportive of Coffee Run. They have looked after us from the initial inquiries we made about training, through to the ongoing support we receive as wholesale customers. The team in the office are super organised, even to the point where they know I need to re-order before I do! They have also facilitated free barista training for myself and our staff so that we can ensure we are getting the best out of those fabulous coffee beans.
Why do you think other people should pick Limini Coffee?
Firstly, the coffee tastes amazing and the customer service is fantastic. We place our order and the coffee is roasted that day and usually received the day after. Our delivery van driver always comments on how nice his van smells after he has done a coffee drop!
The personal approach of Limini Coffee is noticeable; they always have time to check in with us and have a chat about what we are up to. You can tell that Youri and the team are totally motivated, always striving to evolve the business and make it better. They know the coffee shop industry inside out and there is always lots of interesting articles on the website allowing us to bring new ideas to our customers.
What kind of customers do you get through your door?
A real mixed bag! We attend a variety of events so meet many lovely people from all walks of life. From sporty types to holiday makers, families and all manner of coffee addicts!
What is your best selling drink in the shop?
There is a whole lot of latte love going on out there! But we're seeing a move to smaller drinks; with the flat white really taking off. Perhaps it's because it's our favourite - we persuade a lot of people to give it a go!
And what is your best selling food?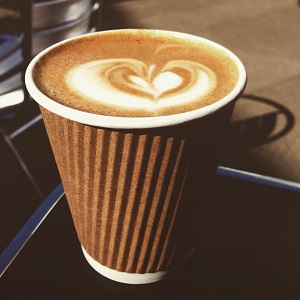 Without a doubt it's our hazelnut brownies, they go down a storm! There's nothing better than coffee and cake :)
What are your future plans?
To say yes to as many different events as possible; we really love the variety that comes with being mobile.
Why do you enjoy running a coffee business?
I think if you like making people happy, running a coffee shop is the right place to do it. When a customer tells you it's the best coffee they've ever tasted it makes you feel brilliant. Everyone wins! Plus, there is nothing better than having your own commercial espresso machine available to fire up any time you want a proper coffee!
What would your advice be for someone looking to start a coffee shop?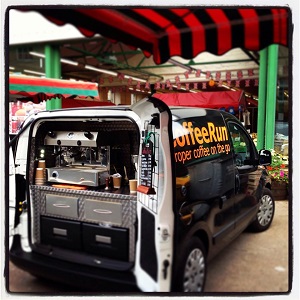 Make sure the financial side of the business works before signing on any dotted lines. If you are looking at a particular property make sure there is enough footfall (customers) to cover all the costs of running the business plus give you a little profit! We apply the same approach when we are considering our pitch at each event.
And a little advice specific to those going mobile: make sure you have warm boots. It can get pretty cold when you work outside!
And finally, please can you tell us your address details and website address?
Our website address is: http://coffee-run.co.uk