Fresh delicious coffee | easy to buy online
We love coffee and really do enjoy supplying you with coffee beans from all over the world. We source, develop and roast coffees from all over the world. Flavoursome, smooth and aromatic coffees that are a real pleasure to brew.
---
Direct from the roastery | Delicious coffee | Limini Tea | Limini Chocolate
ACCOUNT LOGIN
Interested in an account? You can sign up once you have placed an order with us.
Our confirmation email with the invoice will allow you to register your account.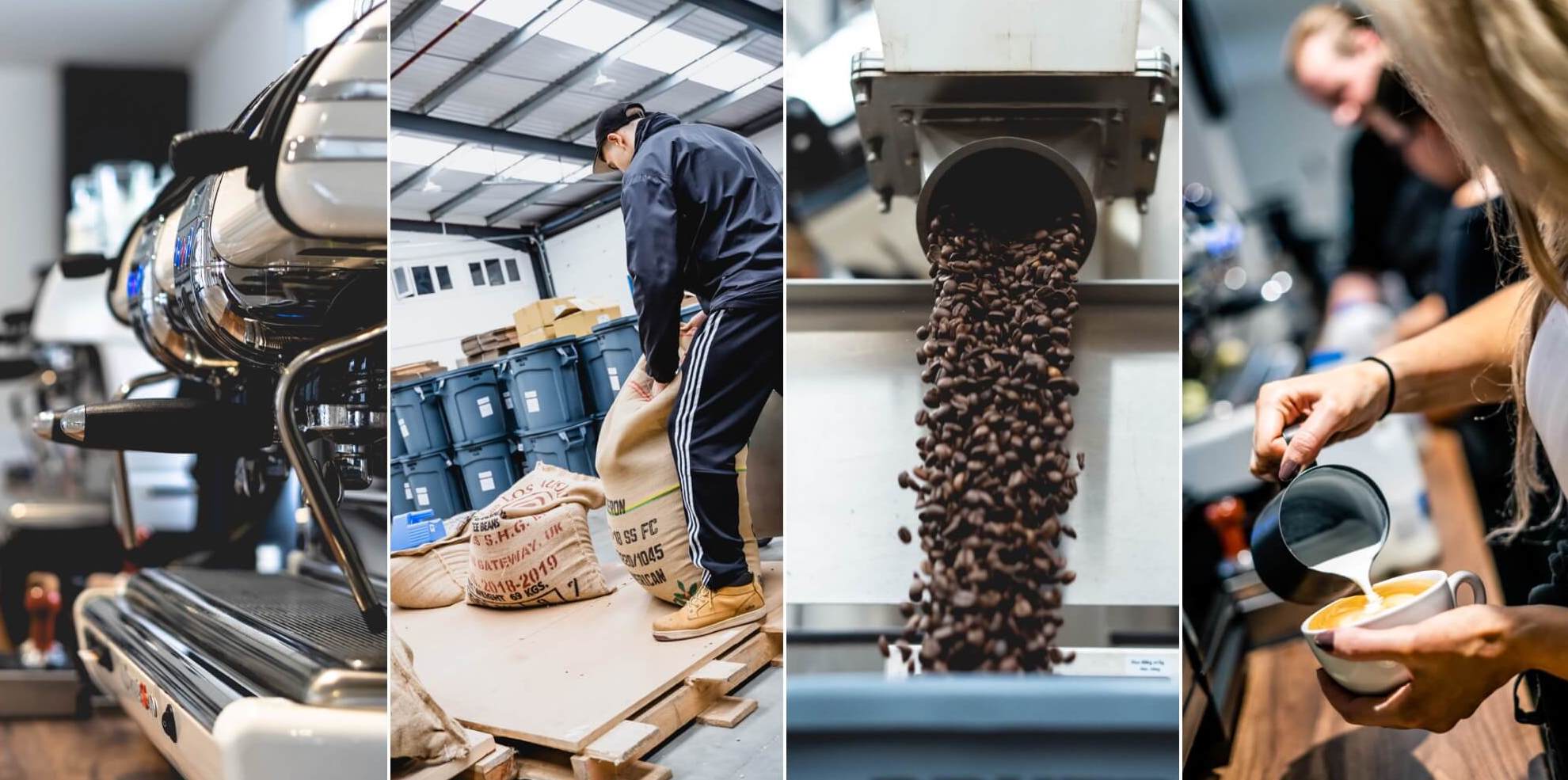 Espresso blends
These coffees are developed especially for espresso based coffee. We roast the coffee beans so that they are smooth and full bodied and stand up in milk.
Decaffeinated coffee
Decaf coffee can be rich and delicious for sure!
Swiss-Water Decaf
Origin: Brazil
Smooth | Dark Chocolate
body
4 / 5
sweetness
3 / 5
acidity
2 / 5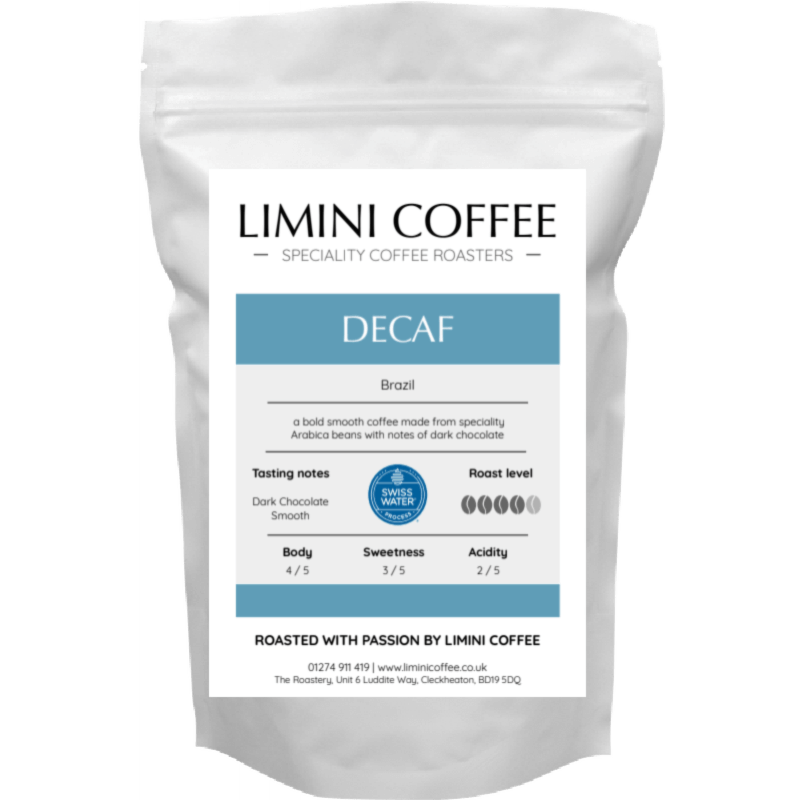 This is a 100% chemical free decaffeinated coffee using the swiss-water decaffeination process.
Our decaf beans are from Brazil and has been carefully sourced to ensure the coffee is smooth and consistent throughout the year.
You can use this coffee through the espresso machine and we can grind this for you; although we recommend to grind fresh for each coffee.
Medium bodied with nutty notes.
Limited Edition
Chosen by the team at Limini and blind cupped. Our Limited Edition coffee is always exciting and distinctive.
Limited Edition (NEW)
Origin: Kenya Muchagara AB - Lot 1295 - 87+
Juicy | Blackcurrant | Peach
body
3 / 5
sweetness
4 / 5
acidity
4 / 5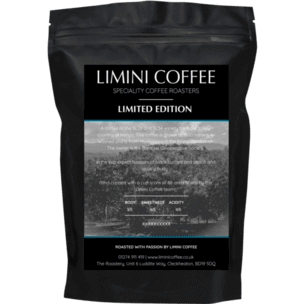 A coffee of the SL28 and SL34 variety from the lovely country of Kenya. The coffee beans are grown at 1800 meters, are washed and are from Muchagara in the Kirinyaga district. The owner is the Baragwi Co-operative Society.
Muchagara washing station is part of the Baragwi Cooperative Society and is located near the town of Muchagara in Kirinyaga District. Founded in 1959, Muchagara is one of the oldest washing stations in Kenya and now has over 1000 members who deliver cherry to the wet mill, and most have between 200 and 500 trees. Cherry that is brought to the Muchagara wet mill is pulped and fermented the same day and after 36 to 48 hours of fermentation the coffee is moved to soaking tanks. Once the coffee has been soaked it's moved to the drying beds where it dries for between 10 and 15 days.
In the cup expect flavours of black currant and peach and a juicy body.
Blind cupped with a cup score of 88 and chosen by the Limini Coffee team!
Filter blends
If you are looking for a blend that works great as an all round filter then give this a go.
Blue Mountain Blend
Sweet | Plums
body
3 / 5
sweetness
4 / 5
acidity
3 / 5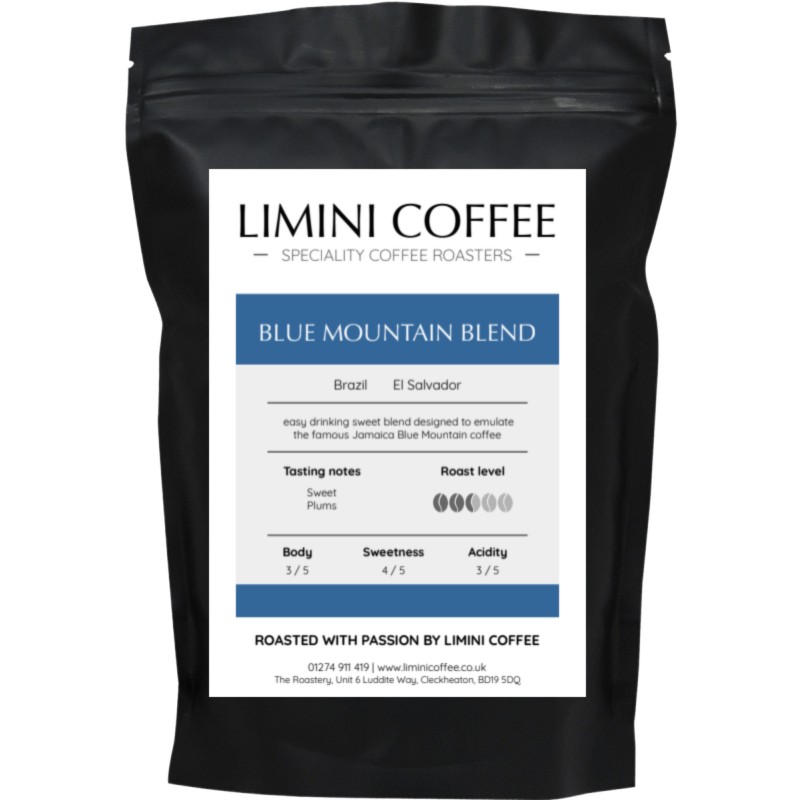 A Blue Mountain blend is often a design by a coffee roaster to emulate the famous Jamaica Blue Mountain coffee beans. This is our version.
We have blended speciality coffee beans from Brazil and El Salvador and roasted it in a way to bring out the natural sweetness.
This is an easy smooth drinking coffee that we are very proud of.
Single origin coffees
We source single origin coffees that we think represent the coffee growing country the best way possible. Single origin coffees are ideal for guest coffees, exploring the world of coffee and impressing your friends and family.
Limini Chocolate
Yummy. Just yummy. We really love chocolate and we hope you do too!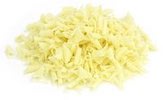 Limini Drops
White Chocolate (1kg)
Sweet | Beautiful | Delicious

Limini Drops
Milk Chocolate (1kg)
Luxurious | Beautiful | Delicious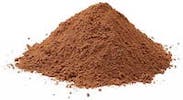 Limini Chocolate
Powder (2kg)
Sweet | Chocolatey | Yummy
Limini Tea
We are passionate about great coffee but tea is also really, really important. So, we have a great range of fresh delicious teas sourced from all over the world. Loose leaf and pyramid tea bags.

Simply Syrups
Fancy a vanilla latte? We hope you like our range of UK made syrups which we can offer at an amazing price for you.
Simply syrups are proudly made in the UK and come in a wide range of flavours.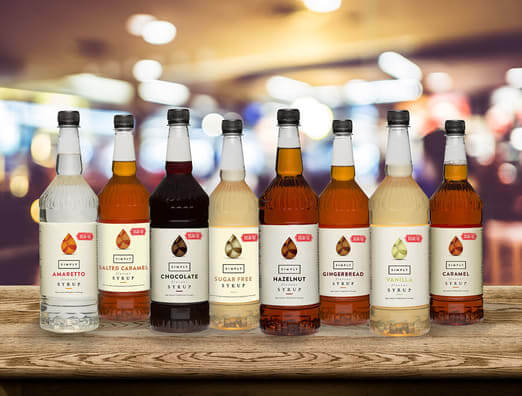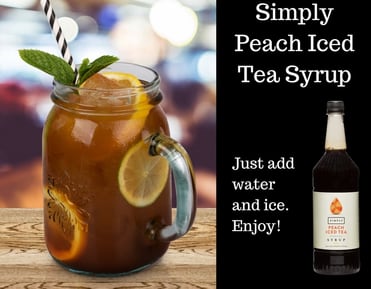 Peach Iced Tea
This Simply peach iced tea syrup is really tasty and so easy to make.
Just add 30ml of syrup to a cup of water with ice.
Ancillaries
For all those other essentials we hope to have you covered as well.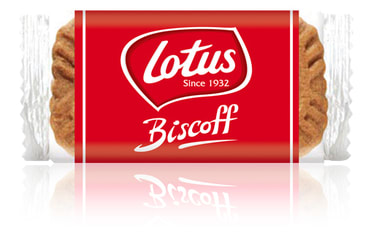 Lotus Biscuits (300)
The perfect give away with any specialty coffee. These caramelised biscuits come individually wrapped.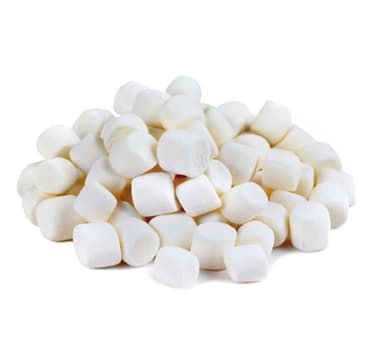 Mini Marshmallows (1kg)
These white mini marshmallows are a perfect and delightful addition for topping your hot chocolate.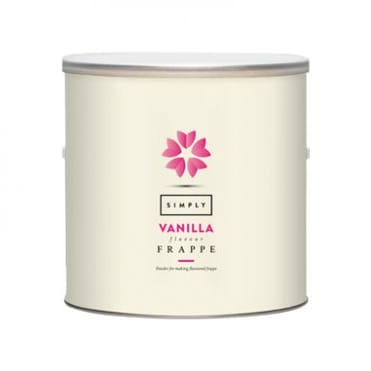 Frappe Mix - Vanilla (1.75kg)
This incredibly flavourful and versatile Simply Vanilla Frappe Powder makes amazing vanilla shakes.
Barista tools
A great range of tools for making coffee.